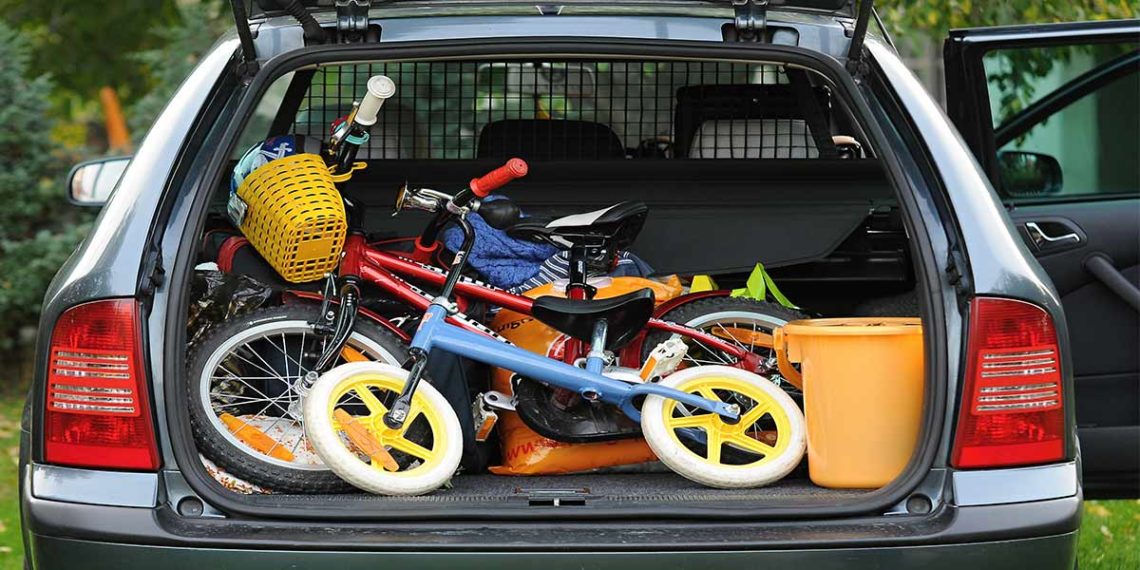 Your trunk is designed to be useful for storage and transporting everyday items like groceries, but are you using it to its full potential? From emergency preparation to useful organization hacks you might not have considered, these are essential things to keep in your car trunk!
Spare Tire and Tire Supplies
Your spare tire or "donut" is a common item that's probably already in your trunk. And if it's not, it should be! Most cars will have a special storage compartment located under the floor of the trunk designed to hold a spare tire, a tire jack, and possibly other supplies as well!
Go the extra mile! Keep a small tire pump in your trunk to give your tire pressure a boost on your way to a gas station, or a can of fix-a-flat for a quick flat tire patch job on the side of the road. Keep a tire pressure gauge in your trunk or your glove compartment for easy access!
Jumper Cables
Another essential that should always be in your trunk, jumper cables are always useful if you're stuck with a car that won't start, or even if you're trying to help someone else in a similar situation. If trunk space is a concern, find a small bag to keep your jumper cables organized!
Go the extra mile! Consider investing in a small battery booster pack so you can jump a dead battery without the help of another engine. (Just make sure to keep it charged regularly!)
A Car Emergency Kit
Your car emergency kit may already contain the items on this list, or it may be a standard first aid kit. It could also contain a lot of other items, from dried fruit and duct tape to a fire extinguisher and even cat litter. Being prepared with a proper emergency kit could save your life!
Tools to Keep in Your Trunk
Keep a small toolbox to organize essential tools in your trunk, including:
An easily adjustable wrench

Screwdriver with multiple size attachments

Tire iron

Lug wrench set

Flashlight

Pliers

A knife or heavy-duty scissors
Go the extra mile! Keep spare motor oil, antifreeze, windshield wiper fluid organized in a storage bin in your trunk!
Comfort Essentials
While your trunk is a great place to store practical items like the ones we've discussed above, you should also pack things to keep you comfortable. Keeping some old pillows, blankets, and towels can come in handy, especially on a longer trip.
Reusable Grocery Bags
Ever get to the grocery store and realize you've left all your reusable bags at home? Try keeping a few in your trunk for quick, easy access! These bags can also come in handy to store other items that may accumulate unexpectedly in your trunk!
Organization Tools
Is your trunk full yet?? This is quite the list, and there's plenty more we could add. So, how do you keep everything organized? Here are 3 quick tips:
Use a bungee cord or a trunk net to keep items from moving around in your trunk

Keep several small boxes or storage in your trunk to easily store and organize miscellaneous tools and items

For a larger trunk, create a DIY shelf to make the most of your space!
Looking for more organization tips and tricks? Check out these 10 Car Organization Hacks!
Latest posts by Taylor Auto Glass
(see all)