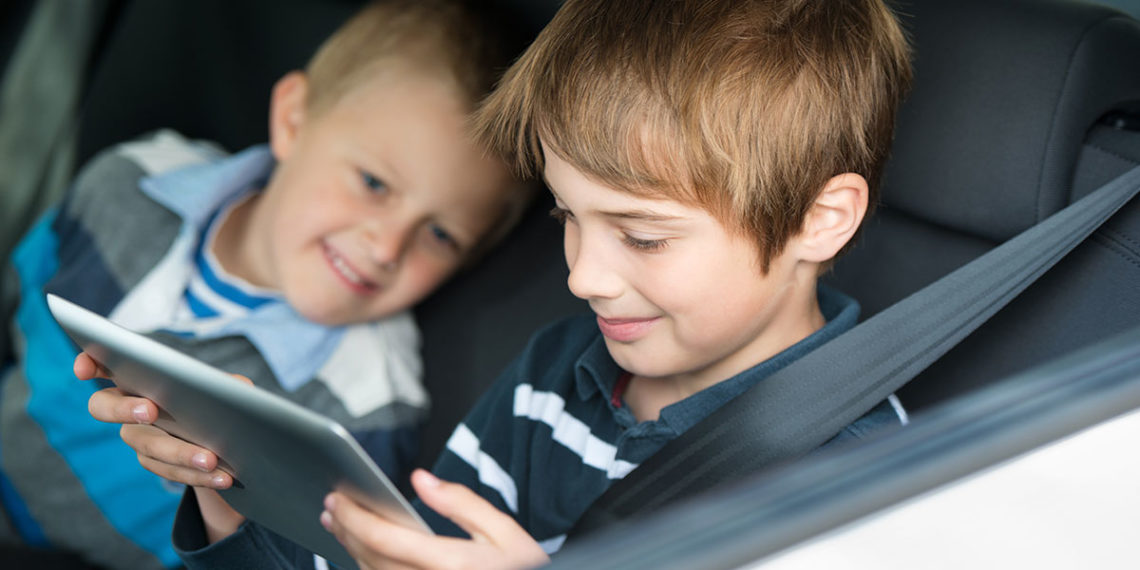 Whether you're taking a cross-country trip, heading down to Disney World, or traveling a couple of hours to visit family, there's a lot to prepare when you travel with your kids. But have you thought about how you'll keep them entertained (and how they'll entertain themselves) the whole way there? Check out these fun car games to keep your kids busy!
Unplug with These Classic Car Games for Kids
With the rise of technology, chances are your kids will want to play on a tablet or phone—and we'll cover those games too—but it's still best to prepare with some non-tech activities for when the batteries run out or you feel it's time to unplug.
"I Spy"
This visual game is great for younger kids. You may be surprised how long they'll be willing to play! Start by saying, "I spy with my little eye, something…." and then name a color. The other players have to guess what you're looking at. The tricky part of this game is that you may run out of things to spy, depending on the scenery on your route, so help your kids get creative by looking for interesting details inside your car.
License Plate Bingo
This game may work best for slightly older children, but it can be a great way to teach younger kids about different states. Each player tries to find a license plate from each state. Whoever finds the most is the winner.
Restaurant Game
In this scavenger hunt game, each player picks a different restaurant (or gas station) and counts how many they can find on the trip. This is a fun game for rest stops as well.
Alphabet challenge
This game works well for mixed ages. Similar to License Plate Bingo, each player tries to find something from each letter of the alphabet during their trip. You can either play by naming things you see (such as an airplane, a bus, a car, etc) or you can limit yourself to letters in any signs you see, bumper stickers, or branding on trucks.
20 questions
This game also works well for mixed ages. One player thinks of a person, place, or thing and the other players can only ask 20 questions to guess what it is. Whoever guesses correctly gets to lead the next round. For older players, it's fun to think of celebrities or movie characters.
Mad Libs
Whether you buy a Mad Libs activity book or you print some free mad libs online, this is a cheap investment for your car ride. In this game, players create a nonsensical story by adding in random nouns, verbs, and adjectives. One player fills in the answers and then reads the final story.
Games for Phone, Tablet, and Portable Gaming Systems
While our classic games are tried and true, technology is also a great way to keep kids engaged (and even give yourself a break from nonstop I Spy). Tablets, phones, and gaming systems typically work well for older children and teens who enjoy more independence, but there are plenty of options for younger kids as well. Tablets are especially great for watching movies (bring headphones!) And digital game stores are great for suggesting new titles. Use filters such as "Puzzle Games" or "Kids Games" and look for anything that's free!
As with anything, moderation is important. Encourage your kids to take breaks as needed if they seem to be getting cranky or motion sick.
Digital Classics
Just because you're using technology doesn't mean the games you play have to be sophisticated. Sometimes a tablet or phone can be a great way to facilitate classic games that wouldn't normally work in a car, such as solitaire, checkers, or chess. For younger kids, you can also find digital versions of simple games like tic-tac-toe, hangman, and Connect Four.
Puzzle Games
These games are not only effective at passing time, they can be highly addictive! Titles such as Tetris and Bejewelled (or Candy Crush) are perfect road trip games
Sandbox Games and Open World Adventures
For some players, these larger-scale adventures are the best way to keep them occupied as they explore, build, or follow storylines. The Nintendo Switch is a great portable platform that doubles as a home console. With the Switch, your children can play games like Minecraft, Stardew Valley, Skyrim, and The Legend of Zelda: Breath of the Wild. There are also plenty of fun "indie games" that are typically cheaper than the big franchises.
Latest posts by Taylor Auto Glass
(see all)