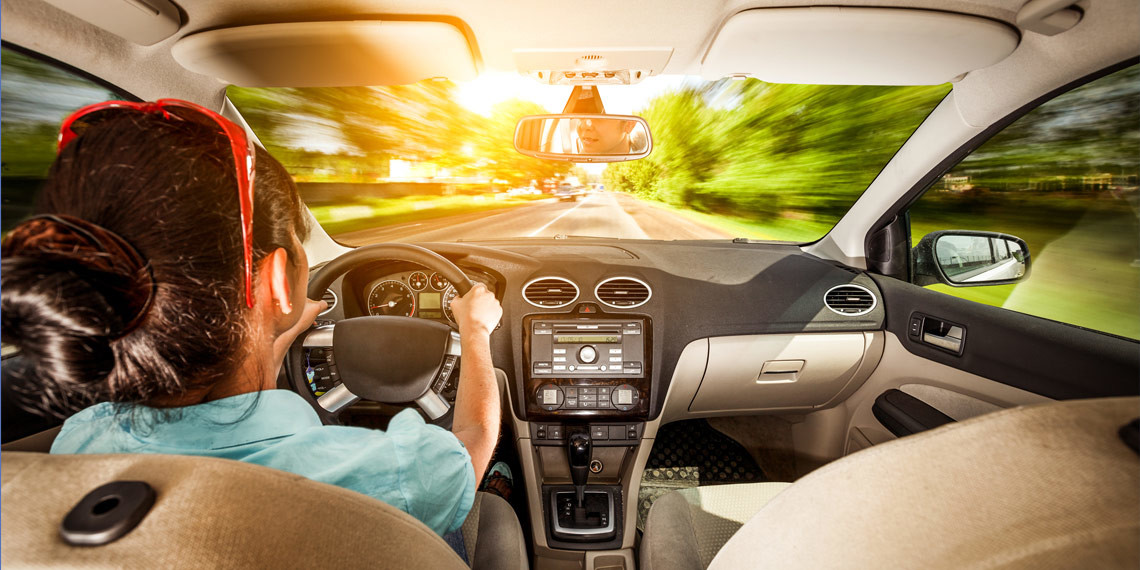 Do you ever feel like every time you get in your car there's more stuff in it? Does it look like you live out of your car? It might be time to clean it out! Of course, if you just have a lot of stuff strewn about in your car that you actually need, then that's a different story! We're going to highlight some of the best, DIY tools out there you can use to make your commute a little less cluttered and stressful.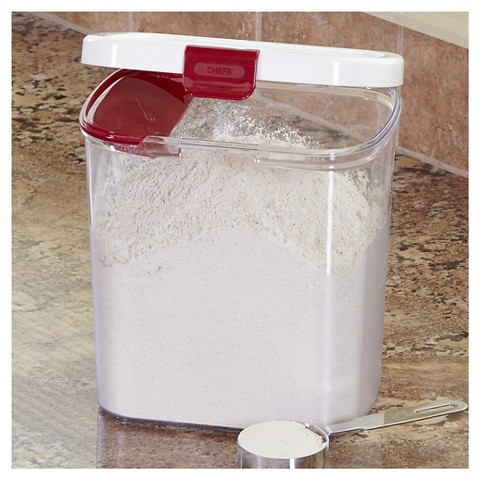 Use a larger flour/sugar keeper or a plastic cereal container as a trash can in your vehicle. It's small enough to maneuver between the front and back seat, and it will be easy to switch out the bag. You can also keep it closed to prevent any spills that create a bigger mess. This well help you keep your trash organized and off the floor!
Use crates and baskets in the trunks of your vehicle to prevent anything from sliding around and on top of other, more fragile objects. And this could apply to anything you keep back there, not just fruit!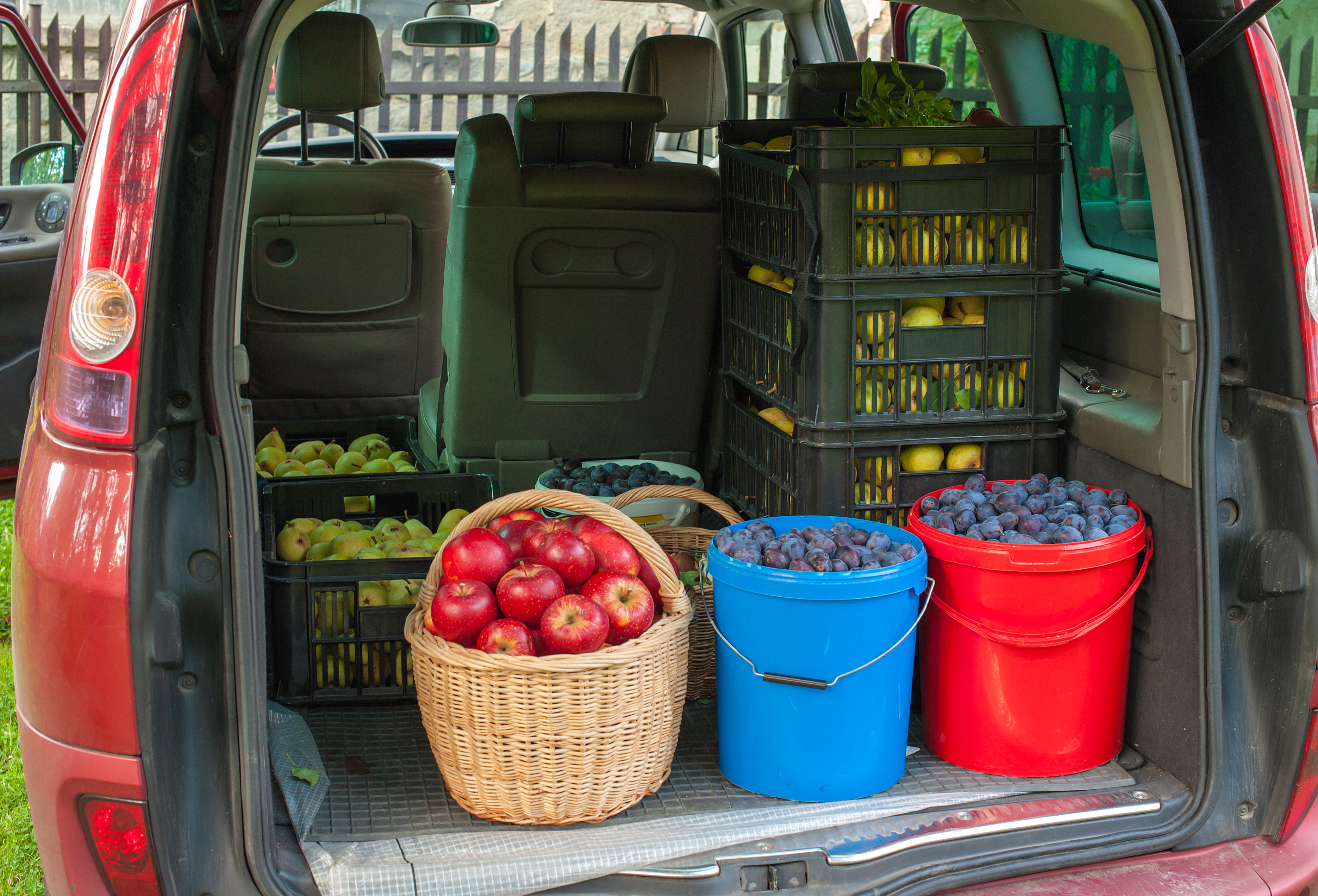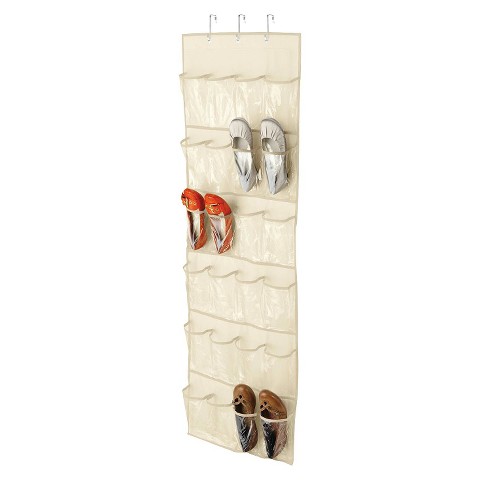 Hang a shoe organizer on the back of either or both of your car seats. Then you can use it to store essentials, or put children's toys in them so they can easily access them and have somewhere to put them when they're done playing! In a perfect world they would get put back perfectly, but this tip may not be foolproof when it comes to kids!
Create a car kit to keep in the trunk of your vehicle with your essentials in it! Keep tools for fixing such as an extra flashlight, batteries, a tire gauge, a repair manual for your vehicle, rope, etc. Then you can also keep a mini first aid kit in this box, along with anything else you deem necessary during an emergency.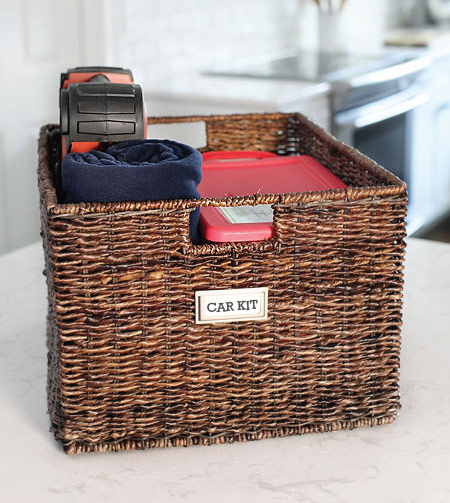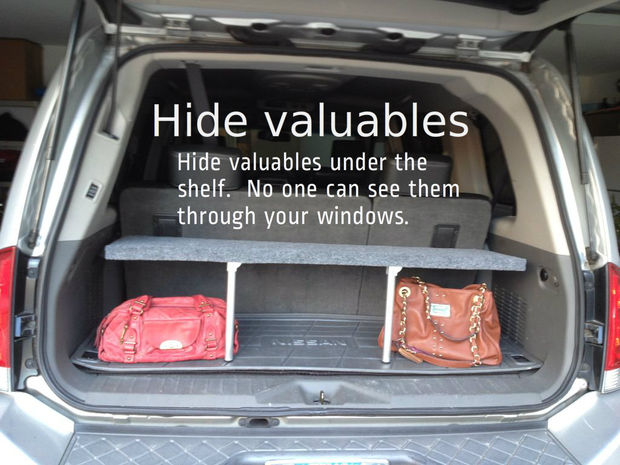 If the containers don't work in the trunk of your vehicle, you can always use a pop-up shelf! This is a great option for SUVs. The shelf can keep dirty shoes and wet umbrellas off the carpet of your vehicle, just put them on top of the shelf. It can also hide your purse when you don't want to take it in somewhere, just put it under the shelf and it can't be seen when the back hatch is closed. It also helps separate your groceries and allows you to stack them without worrying about them falling everywhere.
Use a shower caddy to keep all the fluids your vehicle could possibly need or even your car's cleaning products, so you have them on hand at all times. It's also a good idea to keep a funnel and an old rag in here as well!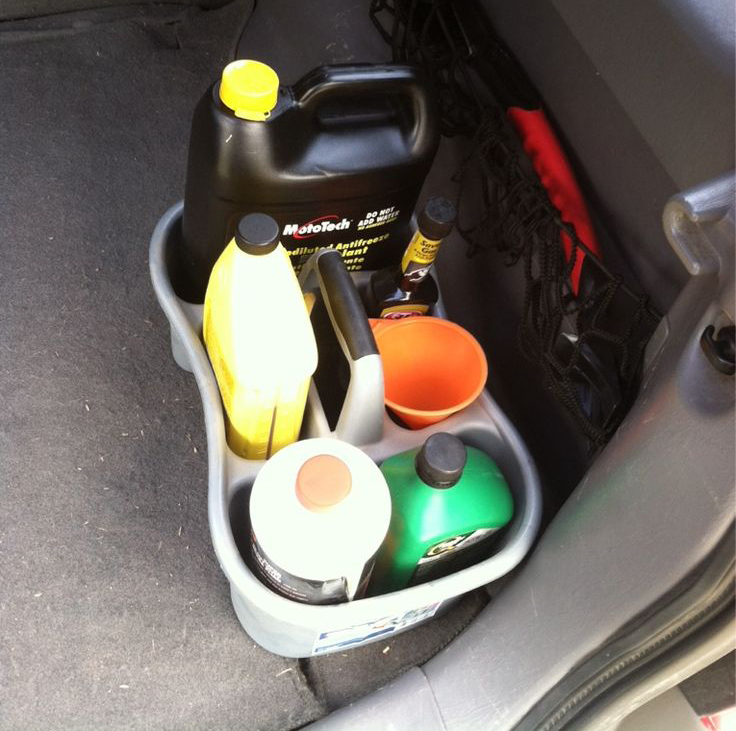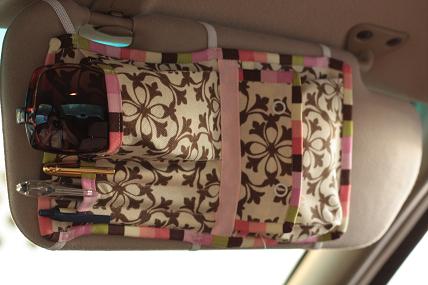 You can purchase or make your own visor organizer like the one pictured to the left. You can keep your sunglasses, extra pens/pencils, screws or any other small tools you may need, including your favorite CDs.
Some people still listen to CDs, right?
Regardless, it's a convenient place to put anything that you may need while driving or quickly when you're stopped. It keeps a few little things from rolling about in your front console!
You want to keep your glove box organized, just in case you need anything out of it in a hurry. A good idea is to get a planner with folders and keep everything centralized in it. Things like your registration, insurance cards, owner's manual, and any other important documents should go in one place. It's also a great idea to keep a notepad and pen in there as well in case you get into an accident and need to exchange information.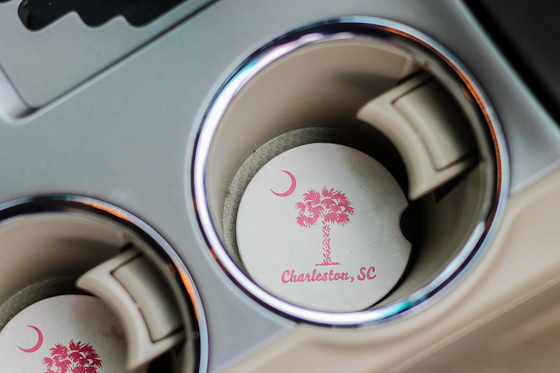 Use ceramic coasters in your cup holders to help keep them clean! This isn't really an organization tip, but it will cut down on your cleaning time and give you another opportunity to decorate your vehicle!
Be ready for when you need to bring your pooch for a ride by keeping a seat cover, or even dog hammock, rolled up and tucked away in your shoe organizer or even your car kit. The cover will protect your seat from dog or cat fur as well as the dirt or mud they could track in on their paws. The hammocks can also make the ride a little more comfortable for your pet! You can purchase one of these or even make one yourself, if you're feeling adventurous!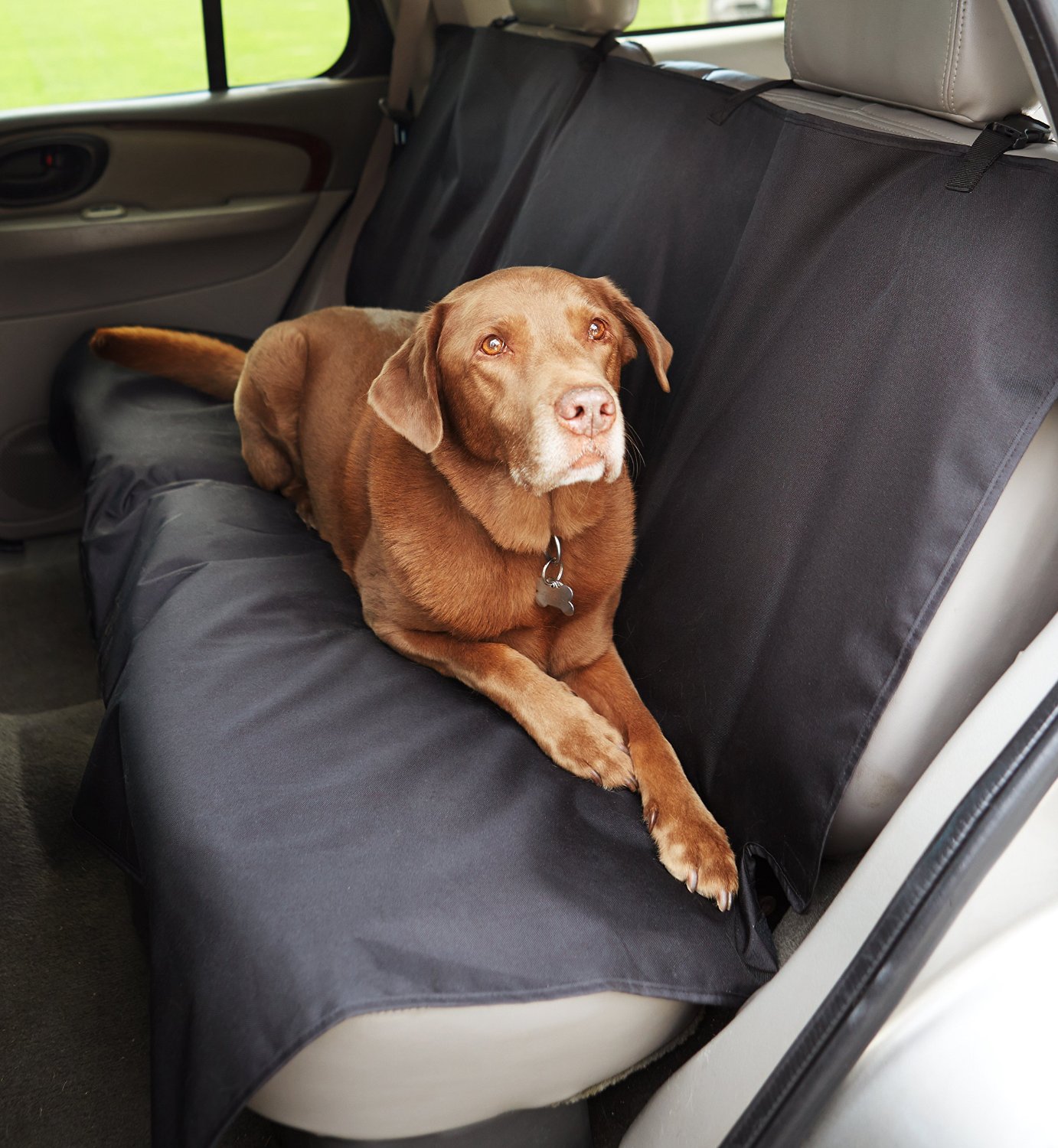 If you have any clever car organization tips, share them below! Or, better yet, post a picture of your organized car in the comments below!
Sources:
car trash can: http://www.target.com/p/chefs-flour-sugar-keeper-red/-/A-17430362#prodSlot=medium_1_1&term=cereal+container
hanging shoe organizer: www.amazon.com
car kit: http://iheartorganizing.blogspot.com/2012/07/uheart-organizing-diy-car-kit.html
pop-up shelf in trunk: http://www.instructables.com/id/Handy-Pop-up-Trunk-Shelf/
shower caddy: http://www.lifehack.org/articles/lifestyle/1-minute-life-hack-organize-fluids-for-car.html
car visor: http://www.vanillajoy.com/sewing-tutorial-car-visor-organizer.html
glovebox planner: www.realsimple.com
coasters in cupholders: http://dailymom.com/nest/10-tips-for-keeping-your-car-clean-and-organized/
dog seat cover: http://www.amazon.com/gp/product/B00QHC02EY/ref=AmazonBasics_HQP_3P?pf_rd_m=ATVPDKIKX0DER&pf_rd_s=hero-quick-promo&pf_rd_r=1DVW0FDHEW8HZAZCB0GM&pf_rd_t=201&pf_rd_p=2160542162&pf_rd_i=B000GL8G4A
Latest posts by Becca Strange
(see all)