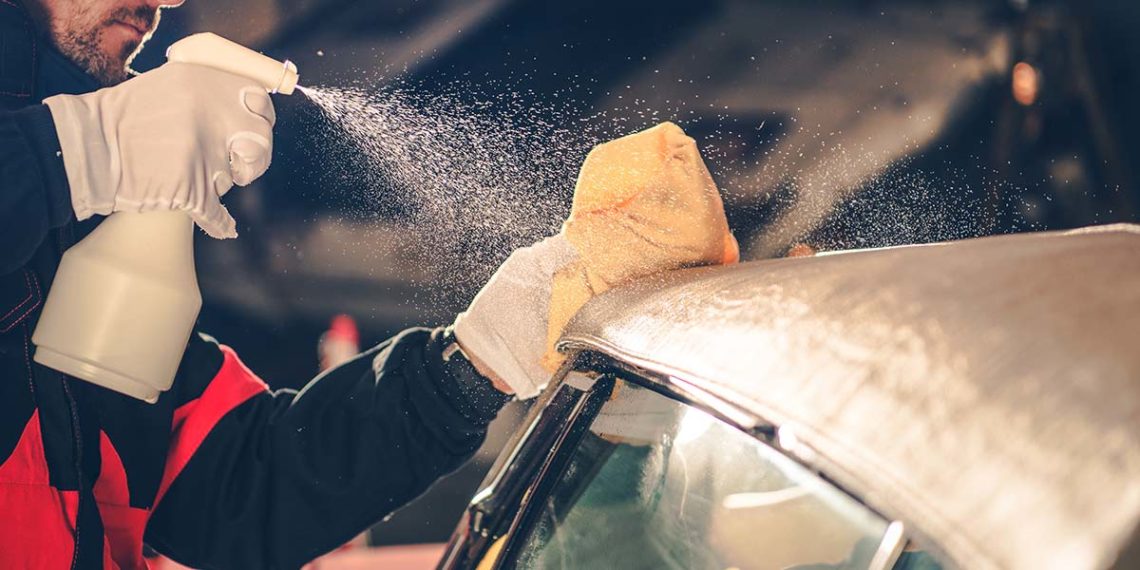 You bought your convertible because it looks great, or maybe because you value versatility. Don't sacrifice either when it comes to cleaning and maintenance. Follow these convertible care tips for the best way to maintain your convertible top!
Yes, we'll answer the age-old question of convertible vs. the carwash, but before we get started:
Does your convertible have a vinyl or fabric top?
Many of our convertible car care tips are going to depend on what type of top you have. While we tend to think of our convertible tops as "hard" or "soft," it's important to consider the material it's made of—vinyl or canvas, cloth, or some other fabric.
How to tell the difference
It's always best to consult your owner's manual, but if you bought your convertible second-hand, it's possible that you're dealing with something different than the factory default.
An easy way to tell the difference between fabric and vinyl is to pour a small amount of water on the surface. Cloth will absorb water; vinyl will not.
So, will your convertible survive the car wash?
Almost always, yes. Especially when it comes to newer models, convertibles are built for water and weather sealing. And once or twice probably won't do much harm.
However, this doesn't necessarily mean the car wash should be your first choice.
A few things to consider:
Your manufacturer's recommendation

The age of your car (and the age of your top)

The water pressure being used

The type of detergent(s) being used
If you're still unsure of whether the car wash is a good idea, it's always best to do some research into your specific make and model (some jeeps, for example, are hand-wash only).
But, generally speaking, many car washes mostly target the sides of your car (below the door handles), with your wheels getting the highest water pressure.
How to hand wash your convertible
The best way to care for your convertible is with regular washing and maintenance at home. That is, if you know what you're doing.
When it comes to maintaining your convertible top, make sure you're cleaning with the right materials. While you may need a slightly different approach depending on the material of your top, following these general tips will help get you started:
Rinse off your top weekly with low water pressure

Vacuum any dirt or debris

Use a soft bristle brush to scrub at tough dirt or grime

After washing, dry your top with a microfiber cloth
Be sure to avoid the following:
Products with ammonia and bleach

Spot cleaning, as this can lead to spots or rings

Direct sunlight while cleaning

Using a terry cloth for drying, as it can leave behind debris
Only use cleaning products specifically made for convertible tops. Products by Raggtopp, Autoglym, or Meguiar's are popular and effective. And be sure to use the proper protectant, but only after your top is completely dry! Together, these products are some of the best ways to keep your convertible looking great for years to come.
Convertible Safety Tips
We've spent a lot of time on the best way to maintain your convertible top. While it's an important part of your vehicle, it's still only part. You always want to make sure you're maintaining your engine and your tires, as well as keeping yourself prepared for a possibility of an unexpected breakdown. You'll also need a good car emergency kit. When it comes to your convertible, you'll want to protect yourself against break-ins.
Latest posts by Taylor Auto Glass
(see all)