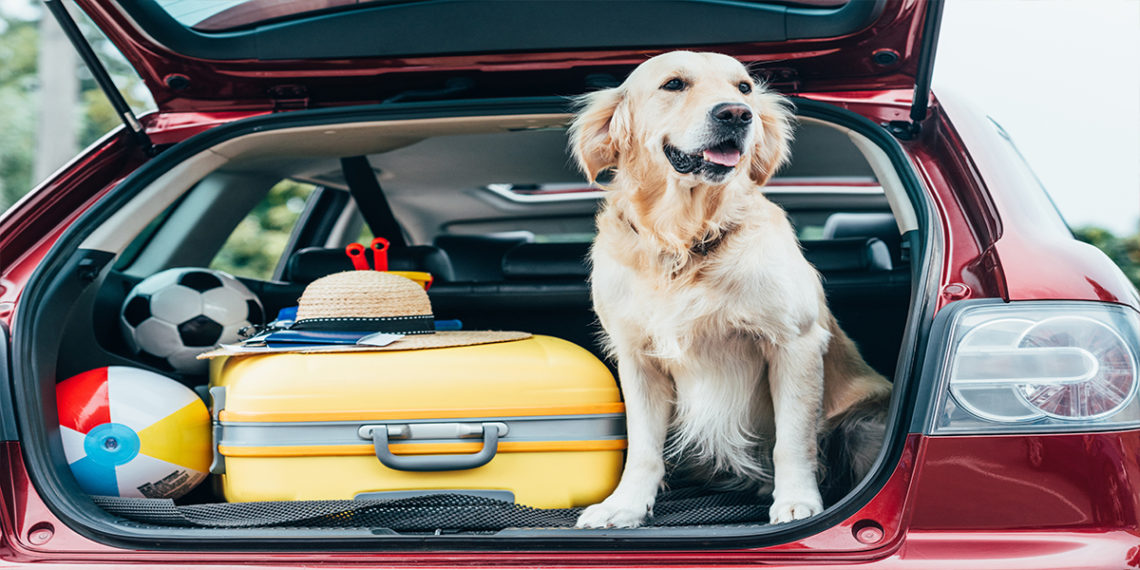 If you're a dog owner, you know your pup can be one of the best road trip buddies. Sure, your average human travel companion (hopefully) doesn't pee all over the car when they get excited, hang their head out the window to creep on strangers, or drool all over the side of the car. But then again, your human friends (probably) aren't as cute, fun, or laid-back as a dog.
Here are a few essential car accessories for dogs that'll keep your four-legged friends calm and comfortable! 
Waterproof Seat Covers
Whether you have a big ol' hound or your pup is closer to the teacup variety, protecting your upholstery or leather from drool, fur, sharp nails, and um…accidents, will minimize the stress and mess of traveling with your dog.
A good pet car seat cover should be easy to clean, machine washable, made of nylon fabric, and offer comfort and security for your dog.
To get the ultimate protective barrier for your car that does double duty as a comfortable bed for your dog, opt for a sling cover rather than traditional fitted covers. Simply fasten the cover behind the two passenger seats and over the headrests of the back seats to create a hammock-style travel bed for your pup. Sling-style covers are also easy to quickly remove and stow away when your pup isn't cruising with you.
Car Harnesses, Seat Belts, and Car Seats
Safety first! You don't drive away without making sure your human passengers are all buckled up, but what about your canine passengers? Invest in a safety harness or booster seat for your dog.
Harnesses & Belts
Larger dogs can wear a harness that includes a seat belt attachment to protect your pup in the event of a collision. They'll still have plenty of room to get comfy in the back seat, but the clip and harness will keep them securely in the back seat in the event of an unexpected stop or a collision. To get the most for your money, look for heavy duty dog harnesses that are compatible with a seat anchor or a dog seat belt. Some even include a storage pocket and work double duty as a hiking or running harness.
Car Seats
Pet-friendly car seats are another option for smaller dogs. Rather than a harness that clips to the seat, a pet car seat fastens to the seat and keeps your pup snug and secure. Car seats are a good option if your small dog enjoys riding in the front seat since it keeps them from wandering or getting into things they shouldn't while you're trying to focus on driving!
Travel Crates
While it can be nice to let your dogs lounge in the back seat on shorter trips, for longer hauls where you might extra space to pack the car, travel crates offer a comfortable alternative to hammocks without hogging your whole back seat. You can even shop for dog beds that are designed to fit your dog's crate. Crates are particularly well-suited to trucks and SUVs that have plenty of cargo space. They can even be bolted to the floor of your cargo space to keep them secure during transport.
They're particularly fitting for dogs who might be anxious travelers and pace or try to move around the car too much during car rides. Travel crates combine comfort and safety for your pet with convenience and peace of mind for you.
Pet Emergency Kits
We've already discussed the importance of keeping an emergency car kit handy any time you're on the road. You need to be prepared for anything from a flat tire to a dead battery to being stranded in rough weather. When you're traveling with a dog, you also have to consider their wellbeing while they're traveling. Pack a pet first aid kit in case your pup gets sick or injured while you're traveling. Be sure to include:
Gauze

Scissors

Tape

Antiseptic wipes

Hydrogen peroxide

Antibiotic cream

Towels & blankets

An extra leash and collar

Any medications your dog requires

Travel bowls, bottled water, and a package of your dog's usual food
Ramps
Whether you have an older dog who needs some help getting into the car (or if you just have a larger dog and you're the one who could use the assist), a ramp makes it much easier to load and unload your fur babies.
Look for portable, lightweight options that you can easily stow away in the cargo hold for the ultimate versatility and convenience.
Latest posts by Becca Strange
(see all)