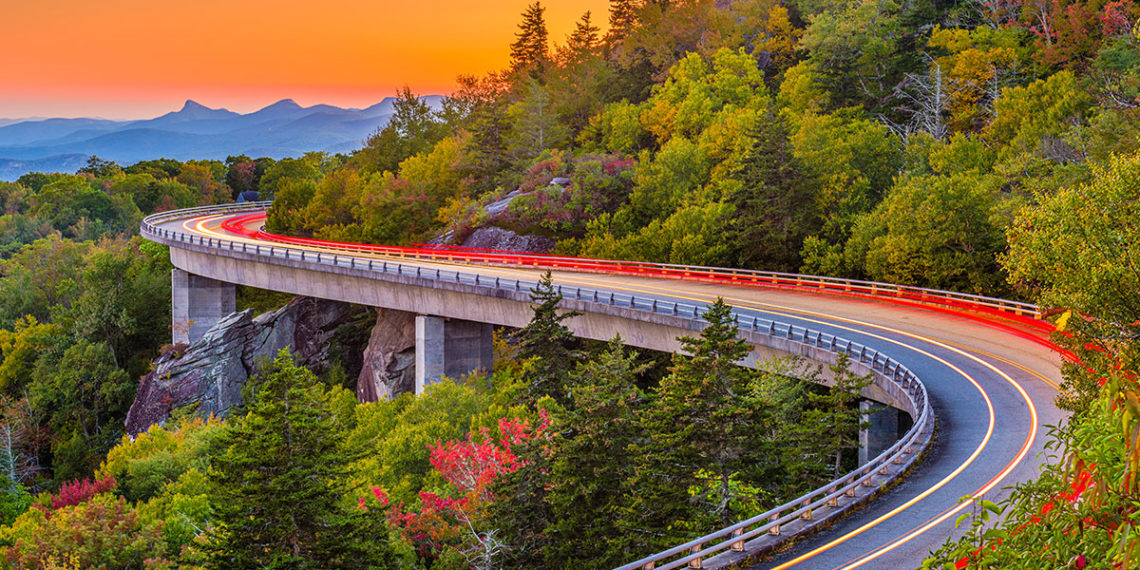 The Blue Ridge Parkway is a well-known tourist destination for both North Carolinians, Virginians and road trip enthusiasts alike. This scenic 469-mile road stretches between Virginia and North Carolina and offers a wide variety of breathtaking attractions and historical locations along its length. If you're looking for an interesting road trip, day trip or simply live near enough the parkway to frequently enjoy all it has to offer, here are a few places that are a must see for anyone traveling the parkway.
Chimney Rock State Park
Chimney Rock State Park is a family-friendly, pet-friendly natural attraction for people who enjoy the outdoors. It provides an abundance of hiking trails and gorgeous views including Hickory Nut Falls, a 404-foot waterfall which is one of the tallest waterfalls east of the Mississippi, and of course the namesake of the park Chimney Rock itself, which stands at 1,200 feet above the valley floor and offers an amazing 75-mile view from its lookout. Chimney Rock State Park also offers guided rock-climbing tours for those who want to try their hands at a bit of adventure. The park also includes a cafe and gift shop, allowing you to plan an entire day of activity around a single trip.
Biltmore Estate
The historic Biltmore Estate is the largest home in America and boasts an impressive 8,000-acre (roughly 12.5 square miles) property. This vast and historied property has opened itself up to the public as a destination stop for tourists and those looking to take in a bit of American history. The original has over 250 rooms to explore and meticulously kept Italian gardens that you simply must experience firsthand. Beyond the home and property, the Biltmore offers other attractions such as the Antler Hill Village and Winery and their Village Hotel, Inn, and Cottages for those looking to make a stay of their visit.
Appalachian Mural Trail
One of the more interesting sights along the Parkway is the Appalachian Mural Trail. A combination of art and outdoor activity, the Mural Trail has over 60 North Carolina and Virginia murals along its length, and it continues to grow.  If you're interested in visiting the Mural Trail the AMT website provides helpful resources to help guide visitors to all the unique murals all along the trail. Visitors can even take selfies with the favorite murals and upload them to the website to highlight their experience.
These are just a few of the great locations you can find along the Blue Ridge Parkway. If you're in the area or planning a destination road trip, traveling the parkway and all its wonderful attractions is certain to provide a first-rate experience.
Not sure whether you should drive your own car or rent one for your family trip along the Blue Ridge Parkway?  We'll help you weigh the pros and cons!
Latest posts by Taylor Auto Glass
(see all)