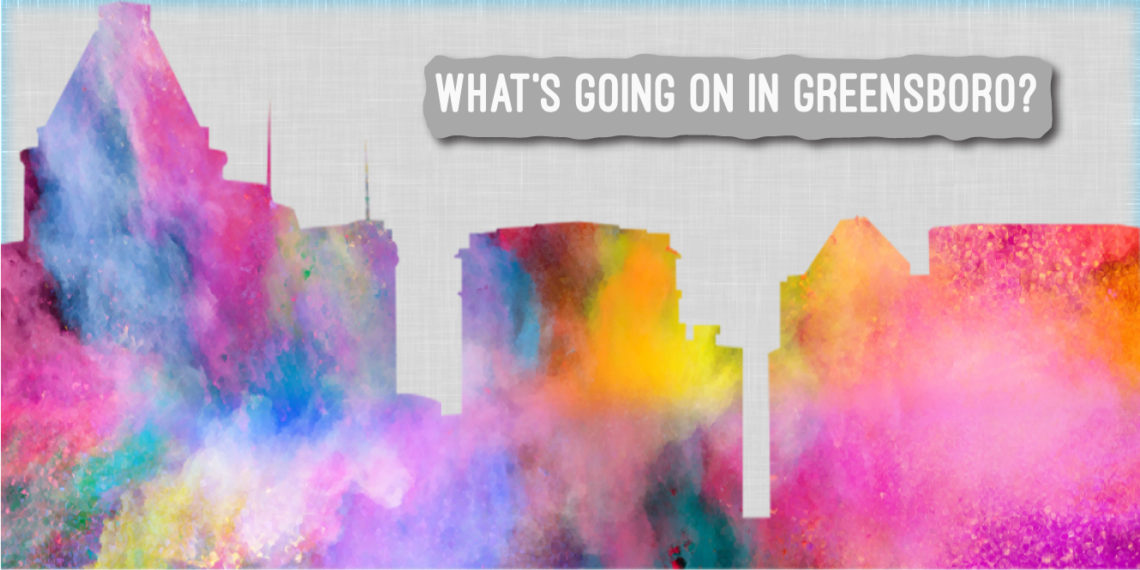 Here at Taylor Auto Glass, we love our city! While we offer mobile auto glass replacement, our physical location and the heart of our company is located in Greensboro. And we know Greensboro is a busy city here in the Triad. So we're putting together a list of some of the biggest events going on in Greensboro in August. Find out what's going on and hopefully we'll see you around town sometime this month!
And don't forget about all the great stuff that comes with a new month! For instance, the Greensboro Children's Museum always has a First Friday Special where admission is only $2.00 from 5:00 – 8:00 pm, so if you're looking for a great place to spend the evening with your kids, that's perfect!
What's Going on in Greensboro This Month!
October 1. Spring Arbor, off Michaux Road, is hosting an Artisan Market. The market will feature over 80 vendors selling handmade and/or repurposed items, live music, face painting, delicious food trucks, door prizes, and even a photographer on-site doing mini sessions with attendees! The market will run from 10:00 am – 4:00 pm that Saturday. Get out and find some one-of-a-kind goods!

October 1. Natty Greene's is celebrating their 12 years in the community with a Pig Fest! It will consist of five hours of all-you-can-eat pig products ranging from BBQ to ribs and more. Not to mention all the pork is local. In addition to the pork, the festival will also include live music, drinks, a limited release of their Anniversary Wheat Wine, a contest, and more. You don't wanna miss this celebration!
October 1. Gibb's Hundred Brewing Company is hosting the Art on Tap event in October. It's a mixture of an arts festival with live music, delicious food, demos performed by local artists, family activities, and craft beer, of course! The festivities begin at 10:00 am with a bike ride in a poker run style through the city. Following the ride, an outdoor block party will go on from Noon – 3:00 pm. They will have raffles, vendors, a kid zone, live music, a giant coloring page, and even a photo booth! All the proceeds from the event will go to Greensboro's own Center for Visual Artists (CVA).

October 8. Triad Reef Critters is hosting a Fall Reef Fest from 10:00 am – 7:00 pm with lots of sales specials that day, contests, yummy BBQ from Area 51, and more! You'll have the opportunity to meet with representatives and hobbyists in the aquarium industry. If you could talk about saltwater aquariums all day, then this will be a lovely afternoon for you!
October 7. Stop by LeBauer Park in Downtown Greensboro on this particular Friday evening to enjoy a movie under the stars, while the weather still allows for it! They will be showing the film The Martian and they will have treats from PorterHouse Burger Truck and Sweet Cold Treats. There will also be food available for purchase from local food trucks, the movie will begin shortly after 7:00 pm at dusk.
October 15. Take part in the Wine and Whiskey Bar Crawl in downtown Greensboro  to test out five different bars in Downtown Greensboro. The 100 participants even receive 2 drink tickets and a swag bag! You can take advantage of the drink specials at each bar, so grab your friends and plan a fun night out on the town! Purchase events by following the link above.

October 16. Celebrate the new season with Center City Park and your local community! Sponsors include Blum Construction, The Junior League of Greensboro, The Fresh Market, Smith Moore Leatherwood LLP, The Cemala Foundation, and more! Swing by the park and enjoy live music, beer, local food trucks, kid's activities, and plenty of fun for you adults too. All the proceeds from the event go to the free, seasonal programs hosted by Center City Park.
October 16. If you're a dog or cat lover, this is THE place to be on Saturday, October 16th. From 11:00 am – 6:00 pm The Haley Graves Foundation and Almost Home Dachshund Rescue are hosting one of the largest dog & cat parties in the Triad area at Revolution Mill! Take your furry family members out to party while enjoying live music, wine, beer, and food trucks, because is it really a party without food trucks anymore? Nope! And if you don't have your own furry family member, come find one! Many local rescues will have booths where you can meet your furry soul mate!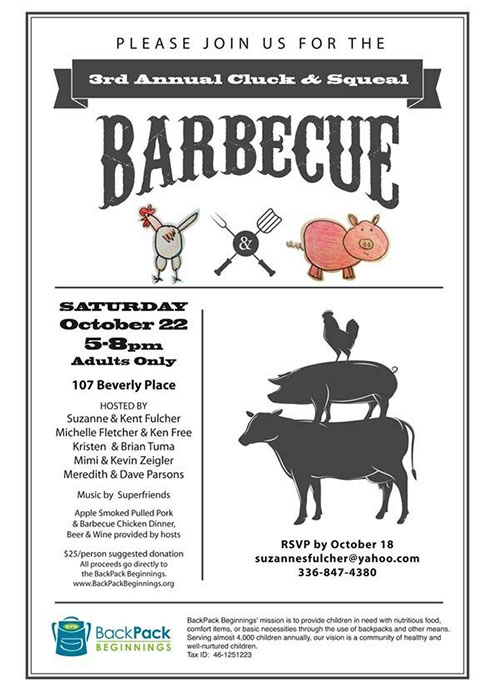 October 22. This adults-only event takes place from 5:00 – 8:00 pm at 107 Beverly Place. They will have live music, apple smoked pulled pork & barbecue chicken dinner, beer & wine, and more! And all the proceeds go to benefit Backpack Beginnings, a nonprofit organization dedicated to providing children in need with nutritious food, comfort items, and other basic necessities. Enjoy a delicious dinner and night out for only $25, which will go to help local children, can't get better than that!
October 22. Empowered Girls of North Carolina is hosting the 3rd Annual High Tea & Silent Auction Fundraiser from 3:00 – 5:00 pm in Greensboro, so throw on your fanciest outfit and join in on the fun at the Creative Center Gallery! They will have door prizes, giveaways, tea, and plenty of vendors to browse through. All the proceeds from this event will go to girls' programming and scholarships.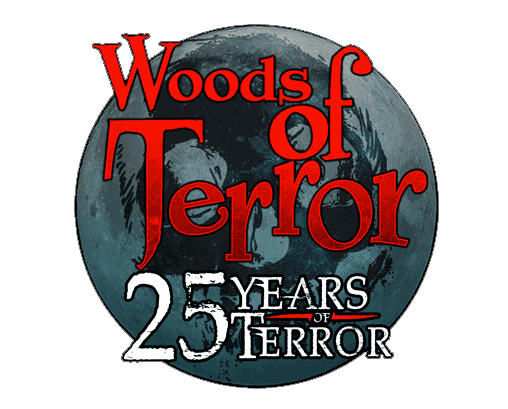 Don't forget that throughout the month you can get in the Halloween holiday spirit with Woods of Terror! With attractions varying from monster parades to tours of the homes of 3 horror movie icons to infestation, which exploits every phobia you could possible have. Push your own limits and learn what really makes you terrified at the Woods of Terror this month, if you dare!
Where will we see you in Greensboro this month?
Latest posts by Taylor Auto Glass
(see all)