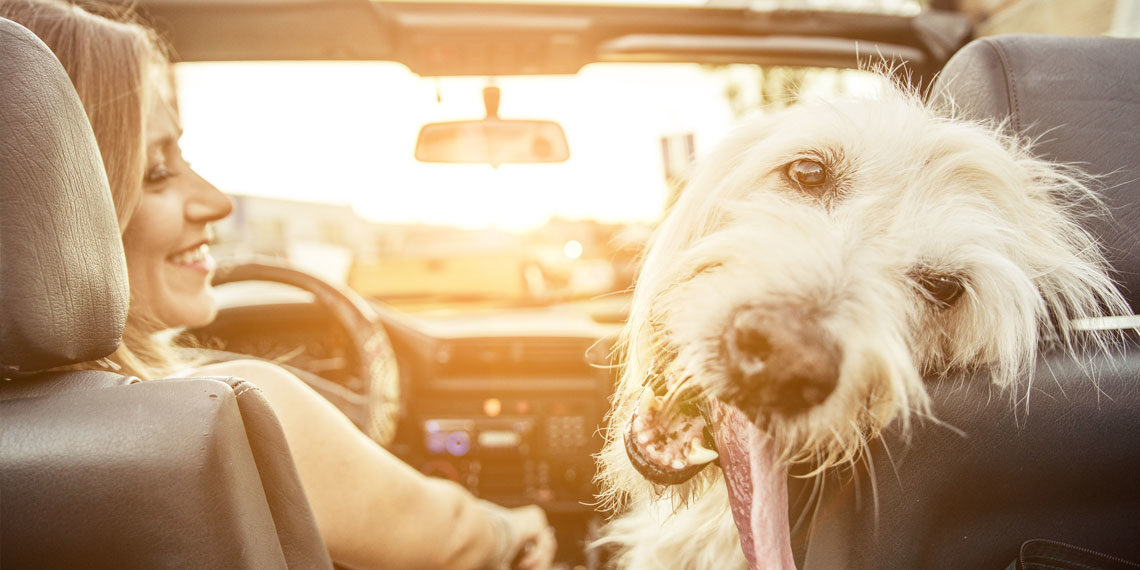 As much as we love our furry family members, specifically our dogs, we all know it can be hard to take them anywhere! A lot of times, when they're riding in the car, they're running across the seats, trying to jump in your lap, and sticking their whole bodies out the window. This isn't the case with all dogs, some are trained to ride in the car well, but it's not always the case. If you want to bring your dog along for a road trip, despite their inability to sit still in a vehicle, then we've got a few tips for you in this list of tools to make a road trip with your pup easier!
By preparing for a road trip ahead of time, like getting your oil changed and tires checked and planning for bringing your pup along, you will have a smooth trip and a stress-free vacation!
Auto Barrier
Even if your dog doesn't normally jump from the backseat, it's best to stay safe during a long ride. They may start to get antsy, which means you should pull over and let them walk around at the next rest stop, but in the meantime, you don't want them jumping around your car and distracting you while you're driving. You can find these auto barriers in all shapes and sizes, so shop around to find the perfect one to keep your pooch in the back!
Car Ramp
During the course of your road trip, your pup will need to get in and out of the vehicle quite a bit for bathroom breaks and a short walk to stretch their legs. Take some pressure off their joints during the trip by keeping a ramp or steps for them to use for getting in and out of your car. This is essential if you have an older dog, smaller dog, or one with sensitive joints in general. It just makes life easier for you and your pooch!
Dog Seat Belt
If you prefer to keep your pooch safe and in place with a seatbelt, it's possible! This features a strap which you can attach to the handles above your car doors, or even lower in the seatbelt loops if you have a smaller dog. Then you just attach the adjustable leash between your dog and the strap to allow your dog to stay securely in the back of your vehicle but also give them a way to move around as needed. This also prevents your dogs from immediately jumping out the door as soon as you open the vehicle door, which could be a major problem when you're far from home! This is also an alternative to the auto barrier because it will still keep your dog in the backseat.
Portable Water Bowl
While any portable water bowl will do, you can find some which are collapsible or some which come in a kit with other dog travel supplies, but this is another cool option. You can grab a water bottle at every rest stop and just stick it in this more compact water bowl and viola! Water for your pup in no time! And with a bowl which takes up very little space. It is designed to fit anywhere your normal water bottles would fit, and you can even store a water bottle in the bowl while you're traveling. This way it's easy to let your dog have a drink throughout the trip. These are also great to take along on hikes or to the dog park, so you'll use it for many more occasions.
Now you can enjoy your road trip with your pooch, completely stress-free!
Latest posts by Taylor Auto Glass
(see all)