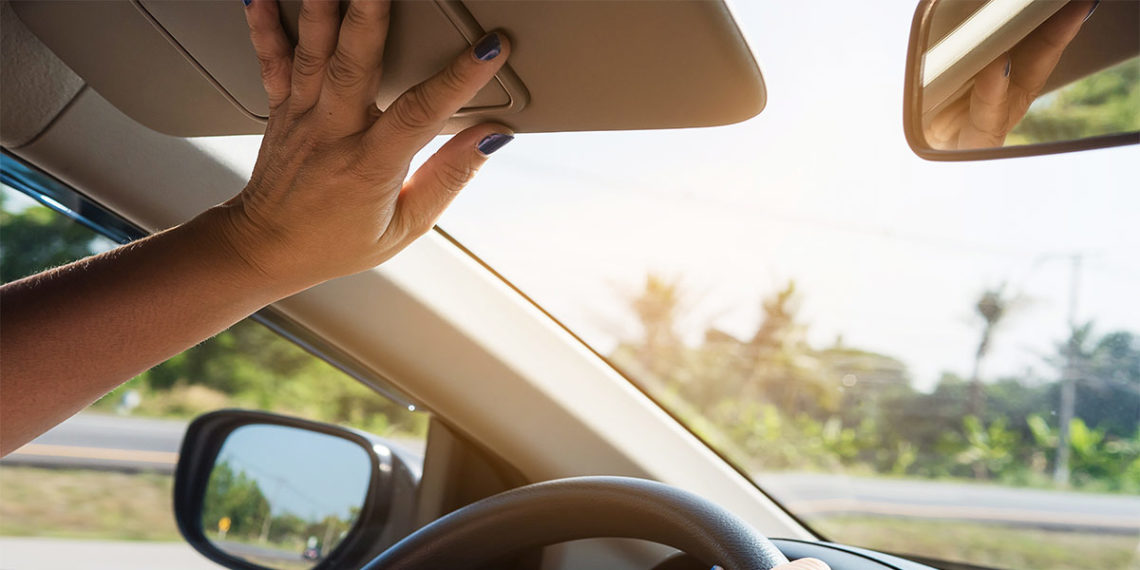 You might've noticed that one or both of the sun visors in your car seem to be gradually getting looser or, if you're really unlucky, maybe the visor on the driver's side broke off on one side and blocks your view. The sun visor seems like a minor feature until it's constantly dropping in your face and blocking your vision or too loose to position it where it will actually do what it's supposed to do: block sunlight from impeding your vision. Fret not, a broken sun visor is usually a simple and affordable fix. Here are a few tips:
Fixing a broken sun visor depending on which type you have
Most sun visors are attached one of two ways: a fixed mount or a swivel mount.
Fixed mounts
Fixed mounts feature a straight bar across the roof of your car with a clip on which the visor is secured on one end. This allows you to swing the visor up and down and dislocate one corner in order to rotate the visor and block incoming light from the windows. A visor with a fixed mount usually won't give you as much trouble as a swivel mount, unless of course the whole thing just snapped off of the mount. Typically, if a visor isn't staying in place on a fixed mount, it's an issue with the clips on the mounting bar that old the visor in place.
To repair a loose visor on a fixed mount, simply tighten all of the screws holding the bar to the roof of the car and double check the visor clips. If the clips have widened and aren't holding the visor firmly in place, you can add rubber stripping or caps to the clip to tighten the grip on the visor.
Swivel mounts
Swivel mounts are gaining popularity because they allow for greater range of motion and allow drivers and passengers to more effectively block out incoming glares. Swivel mounts hold the visor in place with a single swivel bar on the outside corner of a car's roof and a single clip for the opposite end of the visor to hold it in place when it's not in use.
To repair a loose visor on a swivel mount, again, tighten all the screws surrounding the swivel mount. Be careful not to over do it, or it'll be mounted too tightly to adjust. You want the screws tight enough to securely hold the visor in place in any position, but not so tightly that you can't easily adjust the visor while driving.
What if the sun visor is broken beyond repair?
If your visor is completely dislocated due to broken parts or stripped screws, you can pick up a generic sun visor repair kit at most auto supply stores, but a replacement visor most likely won't match the other visor in your car. You can also contact a local dealer to order the appropriate replacement for your car's make and model.
Remember, the purpose of a visor is to ensure a clear field of vision and glare protection for drivers and passengers. If the visor on the driver's side falls out of place and blocks your field of vision while driving, you can secure it with tape or remove it completely until you can properly repair it. Better yet, you can keep a screwdriver in your vehicle and repair loose visors before they become a hazard!
Speaking of hazards, you should be prepared for anything from a broken visor to a total breakdown by keeping a car emergency kit on hand. From duct tape and screwdrivers to medications and flares,
these 20 items
will ensure you're prepared for whatever happens while you're on the road.
Latest posts by Taylor Auto Glass
(see all)