The biggest worry we come across in repairing or replacing a windshield is people concerned that it's going to take all day and worried they'll have to take a full day off of work. Today we'd like to dispel some of those fears and help give realistic expectations for the various windshield repairs.
The best time to get your windshield repaired is whenever small chips occur. They are both cheaper and easier for a technician to repair, taking less time and materials. A small chip (less than a quarter in size) may take only 10-30 minutes depending on the state of your windshield and the temperature. Opting to have small chips repaired can save you hours and hundreds of dollars in the long run. Prevention is always recommended.
Understanding how chips are repaired
The process of repairing a chip involves filling the chip or crack with a resin and allowing it to flow to all portions of the crack and dry. This is a simple version of the process, but it's important to understand that the resin takes time to dry and drying time is affected greatly by the temperature of the day. Warmer days allow the resin to fill the cracks faster, while colder days cause it to flow slowly, taking longer.
Full windshield replacement
This is where most of the concern comes in, but we assure you, it's not as bad as it sounds. A full windshield replacement will likely take less than an hour to complete. Surprising, right?! That's the benefit of choosing a company that dedicates it's time to windshield repair and replacement.
It generally takes less than an hour, with an additional hour recommended for everything to set and dry, for your safety and the safety of those around you. Newer vehicles can potentially take longer due to high tech sensors attached to windshields.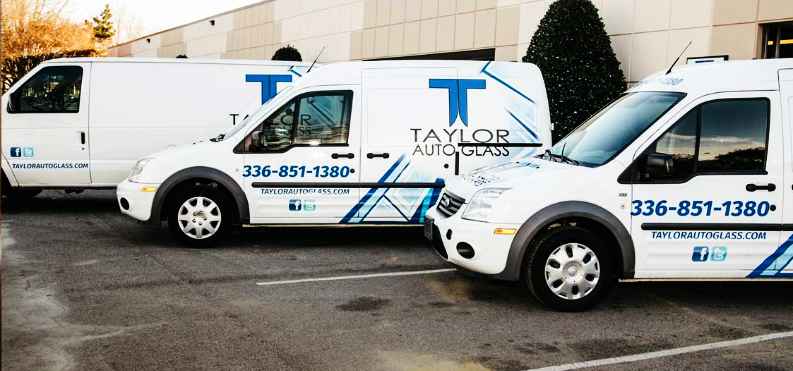 The incredible thing about windshield repair and replacement is – we'll come to you! Being mobile allows us to meet you at your place of work and replace your windshield without you having to take off any time at all. We can remove and safely store the old windshield, and replace the new one in less than an hour. All you have to do is keep on working!
Latest posts by Taylor Auto Glass
(see all)